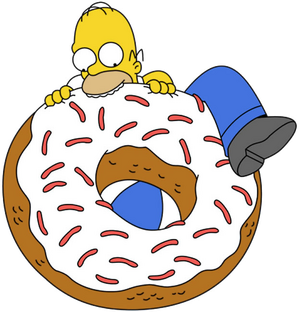 A
doughnut
or donut is a fried food made from dough, and is popular in many countries while being prepared differently by region. Doughnuts are available in numerous shapes, styles and sizes as sweet (or occasionally savory) snacks either homemade or purchased in places like franchised specialty shops, bakeries, supermarkets, and even gas stations. They are generally sweet, made by deep-frying flour dough, and shaped in rings or flattened spheres which sometimes contain fillings. Other types of dough such as potato can be used - as with
Gluten-free Rice/Potato Donuts
- and specially flavored batters, along with an endless variety of toppings, flavorings, and fillings.
The two most common types are ring doughnuts - often either glazed or sugar-coated, and filled ball doughnuts - flattened spheres injected with jam (or jelly), cream, custard, or other popular fillings. Small spherical pieces of dough (often the leftover center from ring doughnuts) are often cooked and sold as "doughnut holes." Baked doughnuts are a variation cooked in an oven instead of being deep fried. Doughnut varieties are also divided into cake and risen type doughnuts.
How They're Made
Edit
Ring doughnuts are formed by using a doughnut cutter, or by joining the ends of a long, skinny piece of dough into a ring. If a cutter is used, the excess dough from the now removed center may be cooked separately to make "doughnut holes" or added to the remaining dough in order to make more doughnuts. A doughnut depositor can also be used to place a circle of dough directly into the cooking oil. Raised doughnuts re made from a yeast-based dough while cake doughnuts are made using a special type of cake batter. Yeast-raised doughnuts contain about 25% oil by weight, whereas cake doughnuts' oil content is around 20%, but they have extra fat included in the batter before frying. Cake doughnuts are fried for around 90 seconds at 375 °F to 390 °F, turning once. Yeast-raised doughnuts tend to absorb more oil because of additional cooking time, approximately 150 seconds, at 360 °F to 375 °F. Cake doughnuts generally weigh between 24 and 28 grams, while yeast-raised doughnuts weigh in around 38 grams and are often larger when finished.
Doughnuts can also be baked in an oven, although baked doughnuts will have a different texture than the more popular fried version, and a different taste since there is no oil absorbed. (this also results in a lower fat content)