Headquarters
New York, NY USA
Area Served
Local only:
NYC metropolitan area
Products
Classic doughnuts
with a modern flair
Doughtnut Plant indulges with delightful flavors such as Valrhona chocolate, ginger, pumpkin, and coconut. Isreal keeps repeat customers guessing by baking different flavors every month or so, but locals anticipate the seasonal specialties: roasted chestnut doughnuts in November, rose petal doughnuts around Valentine's Day, and a blueberry striped version during baseball season. In 2004, the baker introduced a square-shaped jelly doughnut, with organic raspberry or strawberry spread evenly throughout so there's no danger of a big glop landing on your shirt. The retail space is tiny, but you can get a mouth-watering view of the kitchen through purposely designed portholes and watch the team of bakers at work rolling, dipping, and glazing the treats.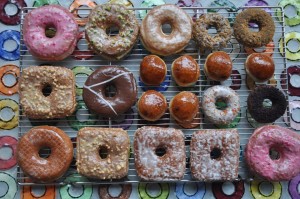 Yeast doughnuts: Light, airy, fluffy yeast-raised doughnuts, with a slight chew.
Cake doughnuts: Leavened with baking powder, the cake doughnuts have a texture somewhere near the intersection of a classic birthday cake and a buttery pound cake.
Filled doughnuts: Filled with house made jams, creams and custards, our filled doughnuts include:
Oiginal square yeast doughnut — filling in every bite makes them special
Blackout — chocolate cake doughnut, filled with chocolate pudding, dipped in chocolate glaze and sprinkled with chocolate cake crumbs.
Tres Leches — the sweet taste of the authentic "three milks" cake, delivered in ou

r round cake doughnut
Carrot Cake — traditional carrot cake with lots of real carrots, raisins, walnuts and spices, with a cream cheese filling.
Doughseeds — mini, round filled doughnuts. Launched with our signature Creme Brûlée, flavors now include Rose (with a rose water pudding and dipped in a rose water glaze, topped with an edible rose petal), Hazelnut Chocolate, Matcha Green Tea, Peanut Butter & Blackberry Jam, Pistachio, Strawberry & Cream and Wild Blueberry & Cream.