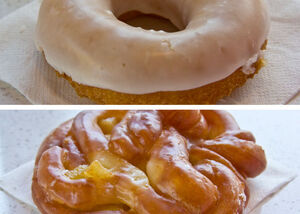 While Portland isn't known as one of the top Donut Cities (yes, there are donut cities), it is still possible to get a really scrumptious donut there. However, you have to do a little digging, and Serious Eats is there to help you every step of the way with their list of Portland's Top 9 Donuts.
First on their list is the Prince of Darkness donut at Staccato Gelato, a very chocolatey, but as they say "not too sweet" chocolate fudge donut.
Then, we have Helen Bernhard Bakery's Old Fashioned Glazed Donut. It's only sixty nine cents, plus it's said to have a slight buttermilk flavor.
Fleur De Lis bakery's Potato Donut is next on the list. This delicious donut is covered in cinnamon and sugar, and they include the donut hole as well!
Next is Gruner Bakery's raspberry-filled donut holes, which are topped with powdered sugar. Seems like a great donut-like treat for someone who doesn't want to go full throttle, but still wants a donut.
Delicious Donuts' Chocolate Cake Donut is supposed to taste like a moist chocolate birthday cake, but beware- they're usually sold out by 9 AM. They open at 3 AM however, so this is a donut for the early birds.
Moody's Donuts/Rocking Frog Cafe makes a fabulous fried cinnamon donut which is said to be extremely crispy and delightful.
The Dark Fix donut at Acme Donuts is a chocolatey wonderland that's both moist and tender, with a bitter dark chocolate glaze and a topping of milk chocolate shavings.
There is a tie for the number one donut. It's between the Frosted Cake donut and Apple Fritter donut at Coco Donuts. These are both so delicious, according to Serious Eats, that your best bet is to just buy both.
So there we have it--Portland's top 9 donuts. Think some delicious confectionary donuts have been left out of the mix? Have you personally tried these little circular wonders? Comment below and tell us what you think!

Source: SeriousEats.com